Cooling Tower 3 Phase Induction Motor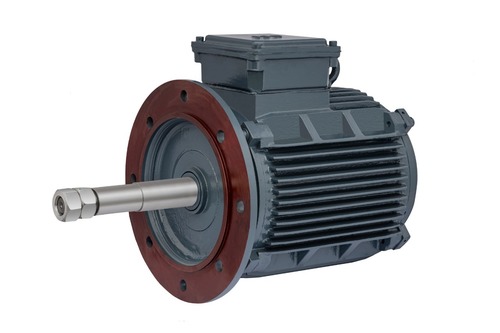 Cooling Tower 3 Phase Induction Motor
Price And Quantity
Unit/Units

2000.00 - 10000.00 INR
Product Description
Features
Application: Cooling tower motors are specially designed flange mounted motors in totally enclosed construction to suit air conditioning & refrigeration industries. This also helps in the better cooling of the motor. Motors are compact in design & less in weight to facilitate easy maintenance.
Direction of rotation: Bi-directional.
Vibration level: Normal class in accordance with 12075-1986.
Noise level: As per IS:12065-1986
Squirrel Cage Rotor: Dynamically balanced with half sized key and corrosion-protected aluminium die-cast squirrel cage is provided.
Rotor Shaft: Special long shaft construction with external threaded end are provided at drive end to directly mount the fan blades of the Cooling Tower. Standard shaft material is EN series (carbon steel) as per IS 1570- 1979.
Earthing Terminal: One earthing terminal inside the terminal box (M5/M6) and two earthing terminals (M6/M8) on stator housing are provided.
Eye Bolt: Forged steel eye bolt is provided from frame size 100 onwards to facilitate lifting.
Specification
Supply Voltage : 415 Volts 10%, 3 Phase AC
Frequency: 50Hz 5%
Ambient Temperature: 50 C
Altitude : Upto 1000 meters above MSL
Relative humidity: Upto 100%
Insulation class F Class
Bearings Double Sealed Ball Bearings
Winding temperature
rise
Designed to operate within class B
limit
Duty Continuous S1
Protection class IP55
Method of cooling IC411
Terminal box position Top of housing towards DE
Paint shade Epoxy Bayer Blue.
Performance of Cooling Tower Motor
| | | | | | | | | | | | |
| --- | --- | --- | --- | --- | --- | --- | --- | --- | --- | --- | --- |
| KW | HP | Size | Pole | RPM | Amp | Tst / Tr | Ist/Ir | Tpo/Tr | % | PF [cos ] | GD2 Kg |
| 0.37 | 0.5 | 71 | 4 | 1330 | 1.4 | 2.5 | 6 | 2.6 | 72.7 | 0.6 | 0.0035 |
| 0.55 | 0.75 | 80 | 4 | 1340 | 1.7 | 2.6 | 6 | 2.6 | 77.1 | 0.6 | 0.004 |
| 0.75 | 1 | 80 | 4 | 1360 | 2.2 | 2.6 | 6 | 2.6 | 79.6 | 0.62 | 0.0045 |
| 1.1 | 1.5 | 90S | 4 | 1370 | 2.9 | 2.6 | 6 | 2.6 | 81.4 | 0.62 | 0.010 |
| 1.5 | 2 | 90L | 4 | 1380 | 3.8 | 2.3 | 6 | 2.6 | 82.8 | 0.64 | 0.007 |
| 0.75 | 1 | 90S | 6 | 890 | 2.3 | 1.9 | 6 | 2.2 | 75.9 | 0.65 | 0.02 |
| 1.1 | 1.5 | 90L | 6 | 900 | 3.4 | 1.9 | 6 | 2.2 | 78.1 | 0.68 | 0.02 |
| 1.5 | 2 | 100L | 6 | 900 | 4 | 1.9 | 6 | 2.2 | 79.8 | 0.71 | 0.03 |
| 2.2 | 3.0 | 112M | 6 | 910 | 5.7 | 2.2 | 7 | 2.3 | 81.8 | 0.74 | 0.05 |
| 3.7 | 5.0 | 132S | 6 | 920 | 8.8 | 2 | 7 | 2.4 | 84.8 | 0.72 | 0.12 |
| 5.5 | 7.5 | 132M | 6 | 920 | 12.9 | 2 | 7 | 2.4 | 86 | 0.75 | 0.16 |
| 7.5 | 10.0 | 160M | 6 | 930 | 16.7 | 2 | 7 | 2.3 | 87.2 | 0.81 | 0.32 |
| 9.3 | 12.5 | 160L | 6 | 935 | 20 | 2 | 7 | 2.4 | 88 | 0.8 | 0.33 |
| 11.0 | 15.0 | 160L | 6 | 935 | 23.3 | 2 | 7 | 2.5 | 88.7 | 0.78 | 0.45 |
| 0.75 | 1 | 100L | 8 | 650 | 2.7 | 1.8 | 5.5 | 2.2 | 66.2 | 0.6 | 0.03 |
| 1.1 | 1.5 | 100L | 8 | 660 | 3.5 | 1.8 | 5.5 | 2.2 | 70.8 | 0.62 | 0.03 |
| 1.5 | 2 | 112M | 8 | 670 | 4.5 | 1.8 | 6 | 2 | 74.1 | 0.66 | 0.06 |
| 2.2 | 3.0 | 132S | 8 | 680 | 6.1 | 1.7 | 6 | 2.3 | 77.6 | 0.66 | 0.1 |
| 3.7 | 5.0 | 160M | 8 | 690 | 9.8 | 1.7 | 6 | 2.4 | 81.4 | 0.68 | 0.25 |
| 5.5 | 7.5 | 160M | 8 | 690 | 14.2 | 1.8 | 6 | 2.3 | 83.8 | 0.7 | 0.35 |
| 7.5 | 10.0 | 160L | 8 | 695 | 19 | 1.7 | 6 | 2.3 | 85.3 | 0.72 | 0.45 |
| 9.3 | 12.5 | 180L | 8 | 700 | 22 | 1.7 | 6 | 2.2 | 86 | 0.72 | 1.0 |
| 11.0 | 15.0 | 180L | 8 | 700 | 26 | 1.7 | 6 | 2.1 | 86.9 | 0.72 | 1.0 |
| 15.0 | 20.0 | 200L | 8 | 705 | 35 | 1.7 | 6 | 2.1 | 88 | 0.75 | 1.0 |
Dimension Details
| | | | | | | | | | | | | | | | | | | |
| --- | --- | --- | --- | --- | --- | --- | --- | --- | --- | --- | --- | --- | --- | --- | --- | --- | --- | --- |
| Frame | D1 | D2 | D3 | F | G | GA | L1 | L2 | L3 | E | P max | M PCD | N | S | ZNO | T | LA | X |
| 71 | 15 | 14 | M12 | 5 | 11 | 16 | 50 | 40 | 65 | 155 | 160 | 130 | 110 | 10 | 4 | 3.5 | 9 | 35 |
| 80 | 20 | 19 | M16 | 6 | 15.5 | 21.5 | 50 | 55 | 65 | 170 | 200 | 165 | 130 | 12 | 4 | 3.5 | 10 | 45 |
| 90S | 25 | 24 | M16 | 8 | 20 | 27 | 50 | 55 | 65 | 170 | 200 | 165 | 130 | 12 | 4 | 3.5 | 10 | 45 |
| 90L | 25 | 24 | M16 | 8 | 20 | 27 | 50 | 55 | 65 | 170 | 200 | 165 | 130 | 12 | 4 | 3.5 | 10 | 45 |
| 100L | 30 | 28 | M24 | 8 | 24 | 31 | 50 | 55 | 65 | 170 | 250 | 215 | 180 | 15 | 4 | 4 | 11 | 45 |
| 112M | 30 | 28 | M24 | 8 | 24 | 31 | 50 | 55 | 65 | 170 | 250 | 215 | 180 | 15 | 4 | 4 | 11 | 45 |
| 132S | 40 | 38 | M30 | 10 | 33 | 41 | 75 | 75 | 70 | 220 | 300 | 265 | 230 | 15 | 4 | 4 | 12 | 65 |
| 132M | 40 | 38 | M30 | 10 | 33 | 41 | 75 | 75 | 70 | 220 | 300 | 265 | 230 | 15 | 4 | 4 | 12 | 65 |
| 160M | 45 | 42 | M30 | 12 | 37 | 45 | 75 | 75 | 70 | 220 | 350 | 300 | 250 | 19 | 4 | 5 | 13 | 65 |
| 160L | 45 | 42 | M30 | 12 | 37 | 45 | 75 | 75 | 70 | 220 | 350 | 300 | 250 | 19 | 4 | 5 | 13 | 65 |
| 180L | 50 | 48 | M30 | 14 | 42.5 | 51.5 | 100 | 120 | 70 | 290 | 350 | 300 | 250 | 19 | 4 | 5 | 13 | 110 |